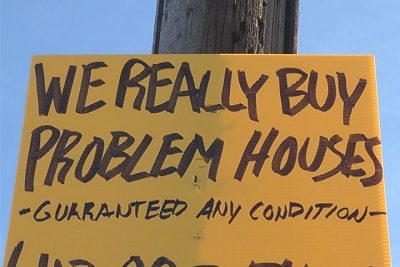 Ever been driving down the street in Houston and Austin and see all those We Buy Houses For Cash signs all over the place? Billboards, signs on the roads stuck in the ground, hung on telephone poles everywhere?  What are they?  Is this a scam?  Who are these people? These are questions you ask yourself.  You're drowning in debt, your house is in shambles and in need of extensive repairs, your credit cards are overdrawn and your bank account over drafted.  Even though your house is in terrible shape and unable to be sold on the market you still feel that there is some equity in it. Well guess what? The people behind these signs may be one of the people who can help you out of your situation.
Even though these signs may seem a bit shady or illegitimate they are actually an important part of the real estate landscape.  These companies provide liquidity in situations such as the ones described before when normally such a house cannot be sold on the open market.
Companies such as these purchase homes below market value and then rehab the homes in order to bring the up to normal retail pricing. An example would be a flooded house with no sheet rock, flooring, or kitchen cabinets.  Such a house would have a very limited market but once fixed up would sell like a regular home.  The issues such an owner would have is the inability to finance $50,000 an average flood repair costs.  This is when a home buying company steps in.
---
So exactly how do these companies operate?
When a seller calls these signs normally the buyer will answer and get to know a little bit more about the house.  The signs you see are a method of advertising that the owners of the company use to get their message out.  Normally people who call are distressed sellers who have tried other means to sell their home and have failed or need to sell the home quicker than they are able to find a buyer with a realtor.  Since these sale are usually hassle free and commission free they also appeal to buyers who do not like these parts of the home selling process.  Once the seller calls they normally set up a time where the home buyer can come look at the house to ascertain what they would pay based on the condition of the house and what other homes in the market sell for after all repairs are made and home is bought back up to tip top condition.  The home buyer should be able to create a contract to purchase the home.  We at FastCashHomeBuyers.org utilize the standard TREC single family home contract.
---
What type of homeowners normally call when they see these signs?
There are a variety of reasons someone might choose to sell to us at FastCashHomeBuyers.org, often times the seller of these homes have made numerous attempts to sell their house and have failed.  Sadly sometimes we are a buyer of last resort. Examples are if a family member passes away unexpectedly and a family suddenly inherits a house but does not have the time or energy to make repairs and put it on the market.  If a house has fallen into disrepair or sustained massive damage due to fire or natural disaster they might also sell a house in cases like that.
Divorcing couples can often have a need to sell their house quickly to settle their affairs.  Attorney fees can be costly and settling the divorce fast by making a quick sale can save thousand in attorney fees. Job loss or unexpected financial hardship can also cause a situation where a quick sale is necessary. Regardless of the situation, most sellers in these situations feel frazzled and anxious, so companies like these help reduce mental stress by fixing the situation immediately through a sale.  Sometimes getting a solution right away is better for your mental health than waiting for 5 months to do a normal sale for a bit more money.
---
Expert Tip
"Do not be afraid to request what is called "proof of funds" from any individual that is claiming to buy your house."
What I don't understand is how to they buy my home for cash?
House Buying Companies such as us usually have a large line of credit lined up through a bank or private money lender or have large cash reserves from running their business. As with any industry you can have companies that are illegitimate or scams.  It is important that you verify that the buyer actually has funds to go through with the transaction. Ethical companies buy houses with cash and can prove their funds if asked. Do not be afraid to request what is called "proof of funds" from any individual that is claiming to buy your house.
What are some we Buy Houses Scams to watch out for?
To avoid falling victim to any scam we suggest you check to see if the company is reputable.  Speak to the person to try to judge if they know what they are talking about.  Do not be afraid to ask plenty of questions to understand how their process works.  If the person on the phone is unwilling to answer your questions we suggest not doing business with them.  Lastly make sure that you meet the company in person and make sure they are looking at your house.  Without knowing the condition of a house a legitimate home buyer would never give you a price as they would not be able to know for sure what your home is worth.
---
We Buy Houses Companies Aren't For Every Seller
Before you call a company like ours that buys houses we suggest you evaluate your situation and your needs. These companies are not for everyone.  Most people who need our services have a need to sell their house quickly for financial situations, hassle free sales, or to take a burden or stress off their minds.
Not all We Buy Houses type companies are the same and some will try to take advantage of the seller trying to make a quick real estate sale.  We suggest you go with your gut feeling and make sure you do the necessary research and trust the person you are doing business with.
Never sign a contract if you are puzzled or confused on what it means. We also suggest you do not sign any hand typed or hand written contracts.  In fact we suggest you sign what we use at FastCashHomeBuyers.org which is the Texas Real Estate Commission TREC single family home contract. These are drawn out by the state of Texas Governing board and are already vetted by attorneys are are what Realtors use when they buy or sell homes.  Also protect yourself by making sure these companies do not try to get out of the contract using contingencies. Methods shady home buyers use  include: stating they need approval from a lender, adding in a specified number of days for a buyer to get financing, requiring they get an appraisal for a certain value, a cost of repair contingency, and requiring they pass a home inspection.
---
Protect Yourself
This article was written to help protect you.  Do not take this as not to work with a home buyer.  Companies such as ours love to help homeowners get out of bad situations and have many satisfied customers who are glad they called us to help move on with their lives.  We hope this article has helped you find the tools and resources to find a reliable company to sell your home quickly and give you the money that you need. You have the satisfaction of knowing that it is possible to finally feel financially relieved by selling your home for cash.  You can move your house quickly to raise cash, FastCashHomeBuyers.org is legitimate, and you could easily have cash in your pocket in just 7 days!
Call us or fill out the form to continue and we will give you a call shortly.
---